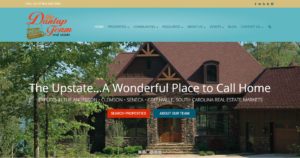 More than ever people are heading online when they're on the hunt for a new house – in fact, 90% of buyers use the Internet when house hunting and 53% of buyers even start their search online. How can real estate agents who often struggle with attracting home buyers to their properties or their services be found when there is so much inventory turnover? Real estate SEO can not only build your online profile, but also bring in buyers to the specific homes you are selling.
By using some tried and true practices of local SEO, tweaked a bit for optimal real estate exposure, brokers can attract more online home buyers.
1. Target long tail local keywords
69% of home shoppers begin their research with a local keyword phrase, such as "Mansfield realtor."
When you're optimizing your website, content or even home listings, focus on local keywords to attract people in that area, and then from there, work on the surrounding areas that feed into the community.
You will want to optimize for search terms like:
[City] real estate
[City] homes for sale
[City] real estate listings
[City] realtor
[City] real estate agent
You want to include these words on pages throughout your site, but you want to do so naturally. Google places a lot of value on authenticity, so be sure to utilize your keywords on places within your site that are most relevant.
2. Keep things mobile friendly
Just because 90% of buyers use the Internet to shop for their next home doesn't mean they are doing it from their desktop. In fact, 89%of new home shoppers use their mobile device during the home buying process. Guarantee that your website does not lose search ranking or traffic by having a responsive website that can adapt to each device a home buyer may be using.
3. Write blog posts on high-value properties
Once your website has been optimized with local keywords, you need to start using those keywords in your additional content, such as blog articles.
Since a real estate agent can represent hundreds of listings at one time, write blogs posts for key properties that you are motivated to sell. This can be a high profile home, one that can be bought quickly, or maybe you can feature a home that has been in your hands for a while, showcasing it in a new light to home buyers.
When you're featuring a specific property or town, your blog post should target a specific keyword that is used in the:
Meta Description
Title tag
ALT tag on photos
File name on photos
In the content
Be sure to share unique features about the house, with plenty of pictures for easy sharing- and don't forget to include details about the neighborhood, town and surrounding activities.
4. Use images to your advantage
While the current digital trends are focused on images, this needs to especially reign true for your real estate content. Whether its professional photos of a home, being able to see your face before they meet you in person, or be able to walk through a home in avirtual tour with you, people are drawn to visuals.
And visuals can help your real estate SEO by having a lot of the same features as a blog post (they can also be included in blog posts). Whether you share these visuals on your blog or on social media, remember to include your featured keyword for a home or neighborhood, so you can optimize your post for the audience you want to reach.
5. Be listed in directories
While being listed in directories is a normal recommendation for any local business, for real estate SEO it's slightly different, because some of the typical directories won't cut it. There are a plethora of sites that people are looking for homes on and real estate agents need to be listed on them, some of these tops sites are:
6. Have the right technology
In order to reach your local audience through real estate SEO, you need to have the technology to track your rankings, update your directories with any changes, regularly share content and post to social media. With the help of the LocalVox platform, you can manage all your needs with the click of a button.
From developing a mobile-friendly website to tracking your SEOrankings, you can guarantee your homes will sell quickly and you will be connected with home buyers online time and time again.