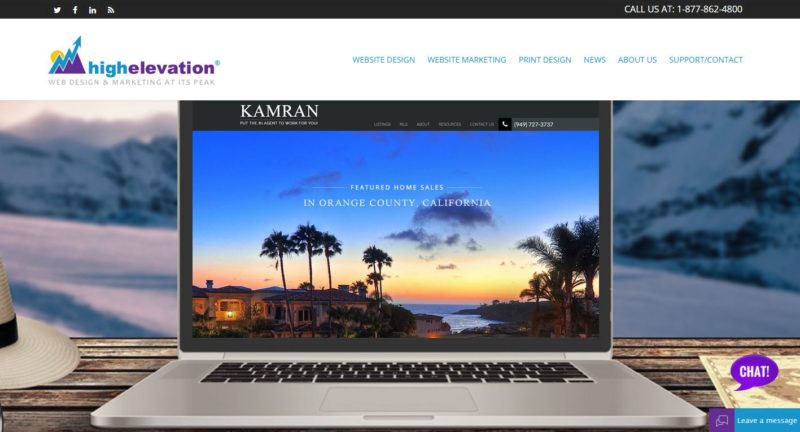 In 2016, being an industry leader means having visibility across all digital channels and social spaces.
Nowhere is this better understood than the real estate industry, a surprising new force in content marketing.
Real estate agents aren't just dabbling in content marketing, they're dominating it with best practices that are relevant to all industries. Why?
Consider this: agents have long served as trusted advisors throughout the home buying process.
Related Article: What Real Estate Websites Can Teach Your Business About SEO & Social Media
Even as the digital house hunt is taking off with apps like Trulia, Zillow, and Redfin, house hunters still want someone they can trust by their side.
They turn to real estate agents for advice on neighborhood growth trends, general market information, and even dilemmas like choosing a fixer upper or investing in a new build.
"Real estate is a media rich industry that has long used images to drive home sales," says Ocala realtor, Fred Franks of Local Realty Service.
"But having great photos on a website won't guarantee a sale or even get prospective homeowners in the door. The key is to use content marketing and social media to nurture your leads.
Prospective buyers may start searching 12 or 18 months out. They want an agent they can trust. Today, this trust is built just as much through content as it is through referrals and reviews."
Whether your business is brand new to content marketing or has been using this digital strategy for several years now, it's always possible to refine and enhance your content to better connect with leads and nurture these leads into sales.
Here's what the real estate industry is doing, and you should, too:
Get Ahead of the Curve
Prospective customers or clients know what's happening now; they're turning to you for advice on what's going to happen six, 12 or 24 months down the line.
For Franks, this means being knowledgeable about Ocala's growing real estate market in a way that builds trust with potential buyers and explains why now is a good time to buy (or sell, as the case may be).
"The market in Ocala is rapidly evolving," says Franks. "There's a huge range of real estate, from single-family homes and condos to private villas and horse farms. With all the content we publish, my goal is to demonstrate not only a clear knowledge of the current marketplace but also offer insight into coming trends."
What you need to do:
Focus on the path forward. How will emerging industry trends impact your clients or customers in 12 or 24 months? What's just over the horizon?
From industry articles to blog posts, be sure to weave this insight into all the content you publish. This knowledge is a key differentiating factor for your content marketing.
Related Article: Home Is Where the Cash Is: Building Your Real Estate Business from the Ground Up
Anticipate Needs, Solve Problems
What's one of the top complaints homeowners have about their current houses? A lack of storage. From Marie Kondo's cult-classic, "The Life-Changing Magic of Tidying Up" to timely spring-cleaning tips, de-cluttering is a hot topic.
Storage tips are no longer the exclusive realm of Martha Stewart. The real estate industry is jumping on this topic with articles like "The Ultimate Declutter Guide: Tips on How to Organize" from ExtraSpace Storage to "Home Staging 101: Declutter Room by Room and Outside the Home" by ForSaleByOwner.
These articles do everything that great content should: educate prospective customers on a timely and relevant topic without ever giving a "hard sell".
What you need to do: 
What are the biggest challenges facing your industry? How can you create content that addresses these needs through actionable advice?
Don't just publish one blog post and call it a day; consider creating a weekly feature addressing a top problem through a Q&A format or even including short, how-to videos.
Provide Useful Tools for Estimating Costs
Calculating expected cost is a big frustration point in just about every industry. As a small business owner, you've likely experienced this first hand when trying to build a website or get a marketing price quote.
That's why web design calculator tools are so popular: you enter a few parameters, and the calculator spits out an initial estimate that gets you in the ballpark and sets expectations.
In the real estate industry, popular tools include home remodeling cost calculators, reverse mortgage calculators, and amortization calculators.
What you need to do: 
Think about your current clients: what's the biggest issue they encounter with your cost quotes? Are they expecting far more services at a lower price?
Are they okay with the cost but only after you've explained that your price is actually lower than the industry standard?
Not only will an online calculator help your clients better understand what they can afford, but the calculator will also help frame their cost expectations in your favor long before you submit a proposal.
Related Article: Warning: These Real Estate Marketing Strategies Are So Effective, They're Addictive
Bottom Line
Content marketing is a must-do for businesses, but in the rush to publish content, quality often falls by the wayside.
Get the most value for your content marketing by stealing these best practice tips from real estate agents.
Don't just demonstrate current industry knowledge: tell clients where the industry is going.
Capitalize on popular trends and use these trends as "hooks" for viral articles.
Frame price negotiations in your favor by providing an online calculator to help leads better understand cost expectations.
For more check out:  www.business.com