What is SEO?
SEO stands for "Search Engine Optimization". It improves your website's ranking in the "natural" results of major search engines. The natural results (also called "organic results") are based almost entirely on the relevancy of your website to specific search terms, also known as keywords.
Why is SEO Important?
• 77% of search engine users click on natural listings before paid search listings.
• 72% of merchants who sell to local markets rate SEO as their best ROI tactic or a good ROI tactic.
• 74% of users had a favorable impression of brands that appeared in the top positions of the natural results.
How long does it take to see improvement?
It generally takes 3-6 months to see significant ranking improvement. Google constantly alters their ranking algorithms and we stay apprised of these changes and adjust your marketing campaign accordingly. Some SEO companies promise large back-linking numbers to imply that they will be more effective. Unfortunately, these suggestions are misleading; the quality of back-links more greatly affects ranking than does mere quantity. And regrettably many websites are inadvertently "sand-boxed" by these unwieldy link-building campaigns, which means Google blocks the site out from their results altogether.
Instead, as each campaign is a unique endeavor, we work to perform whatever work is required to ensure your ranking improves, while not risking your site to sand-boxing. While page rank increases do not happen overnight, 82% of our clients see meaningful improvement in the first 3 months. Patience and persistence pay long-term dividends to SEO consumers. And we send you a monthly report on your page ranking improvements so you can be confident that progress is being made.
Additional SEO Information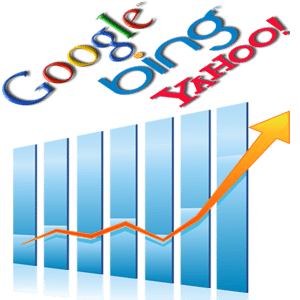 When people search online, over 90% of the time they only follow links on the first page. If they don't find what they need by then, they don't continue checking additional page results…they just do a different search! This means if you are not on the first page you are missing out on almost all potential traffic.
Search engine optimization, or SEO, is the process by which website owners can improve their page ranking for when people search for keywords that relate to their site (one keyword is a phrase like "Boston Wedding Planner"). Every phrase receives a certain amount of traffic each month. By appearing towards the top of these search results, you can essentially guarantee that a
target audience will find your site.
What are the 2 components or strategies that lead to effective Search Engine Optimization?
OnSite – This refers to actual HTML coding done directly on your site that encourages search engines (e.g. Google, Yahoo) to direct more traffic to you. Specifically, we optimize the title tags on your website to emphasize specific keywords that are most relevant to the traffic you wish to target. Our team will log directly into your site files to perform and manage these changes for you.
OffSite – While onsite work is important, the work that is most meaningful to effective SEO is also the most difficult and time-consuming to perform: active and persistent link-building. Our experienced SEO team runs a customized campaign doing just this! High Elevation consults with you 1- on-1 to determine which keywords are the most effective to drive traffic to your site. Not all keywords are created equal and we specialize in identifying those that are most likely to drive ideal traffic to your site.
Why should I do an aggressive campaign?
When attempting to improve page rank under a highly competitive search term, sometimes a client needs a more aggressive link-building package. Our aggressive campaigns not only includes the creation of articles per keyword and submission to hundreds of online directories and article sites, but also the creation of custom blog posts. For each keyword phrase, we create unique articles every month to post on high "Page Rank" blogs.